Here's How to Get Your Blog Working for Your Business

Suppose you could hire 23 of the biggest names in blogging to give you proven tips and techniques for using a corporate blog to generate leads, win customers and achieve your sales goals.
Suppose each of those experts came to your home or office and gave you 60 minutes of their time. Each one could easily charge you hundreds of dollars.
But suppose you got all of those experts for less than $300. Not $300 per expert, less than $300 for all of them.  Only $300 for 14 hours of highly implementable training.
That's exactly what you'll get when you sign up for the early-bird discount to attend Social Media Examiner's Blogging Success Summit 2011. (aff) It's an online conference scheduled throughout the month of February 2011. You won't need airline tickets, hotel rooms, a rental car or a week of fast food.
All you need is an Internet connection and speakers.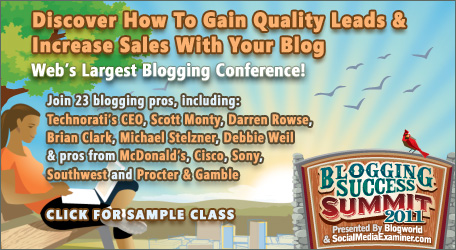 Just look at this partial list of the 23 instructors:
Richard Jalichandra, Technorati CEO
Darren Rowse and Chris Garrett, authors of the best-selling book, ProBlogger: Secrets to Blogging Your Way to a Six-Figure Income
Debbie Weil, author of The Corporate Blogging Book
Douglas Karr, co-author of Corporate Blogging for Dummies
Joe Pulizzi, co-author of Get Content Get Customers
Brian Clark, founder of Copyblogger
Michael Stelzner, founder of Social Media Examiner

Rick Calvert, co-founder and CEO of BlogWorld
Denise Wakeman, co-founder of The Blog Squad
You'll also hear from people in the trenches – bloggers and social media marketers from Ford, McDonald's, Southwest Airlines, Sony, Cisco and Procter & Gamble.
Here are some of the things you'll learn:
The State of the Blogosphere: What Businesses Need to Know
Transforming Your Small Business Blog Into a Lead Generation Machine
20 Actionable Techniques to Enhance Your Blog's Content
How Big Businesses Are Leveraging the Power of Blogs
How to Improve Your Search Engine Rankings With Blogging
HubSpot found that businesses with an active blog get 55% more online traffic than those without a blog.
Which part of that statistic are you in?  What do you think your competitors are doing?
To learn more about the upcoming summit click here. (aff)

Join the newsletter
Subscribe to get my latest content by email.